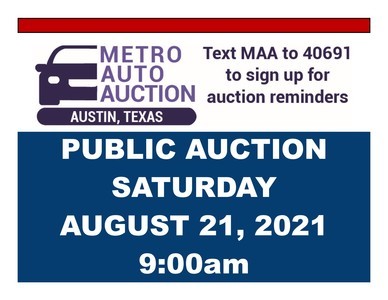 Featured Vehicles
There are no featured vehicles at this time.
Upcoming Events
No Events currently scheduled
See more
Announcements
Our next public auto auction will be AUGUST 21 at 9:00am. Don't miss out on your chance to Buy Like the Dealers Do... Direct from the Auction and SAVE MONEY!! We are open to the public - no special license needed... just a driver license, passport or State ID and $300 CASH DEPOSIT to register to bid.
Please sign up for our text reminder system by texting MAA to 40691. This is the fastest way for us to send out information and keep you informed. Please contact us at 512-282-7900 with any questions.
We appreciate your business!