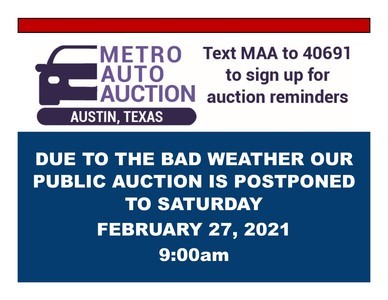 Featured Vehicles
There are no featured vehicles at this time.
Announcements
Due to the bad weather, we have moved our next auction to FEBRUARY 27 at 9:00am. We will have over 200 vehicles! So don't miss out on your chance to Buy Like the Dealers Do... Direct from the Auction and SAVE MONEY!! We are open to the public - no special license needed... just a driver license, passport or State ID and $300 CASH DEPOSIT to register to bid.
Our highest priority is the safety and health of our customers, our communities and our staff.
All CDC protocols will be followed:
Maintain social distancing of six feet
No groupings of more than 10 people
Face covers are REQUIRED.
Please sign up for our text reminder system by texting MAA to 40691. This is the fastest way for us to send out information and keep you informed. Please contact us at 512-282-7900 with any questions.
We look forward to seeing you again and we certainly appreciate your business!